Music Festival Outfit Ideas and Inspiration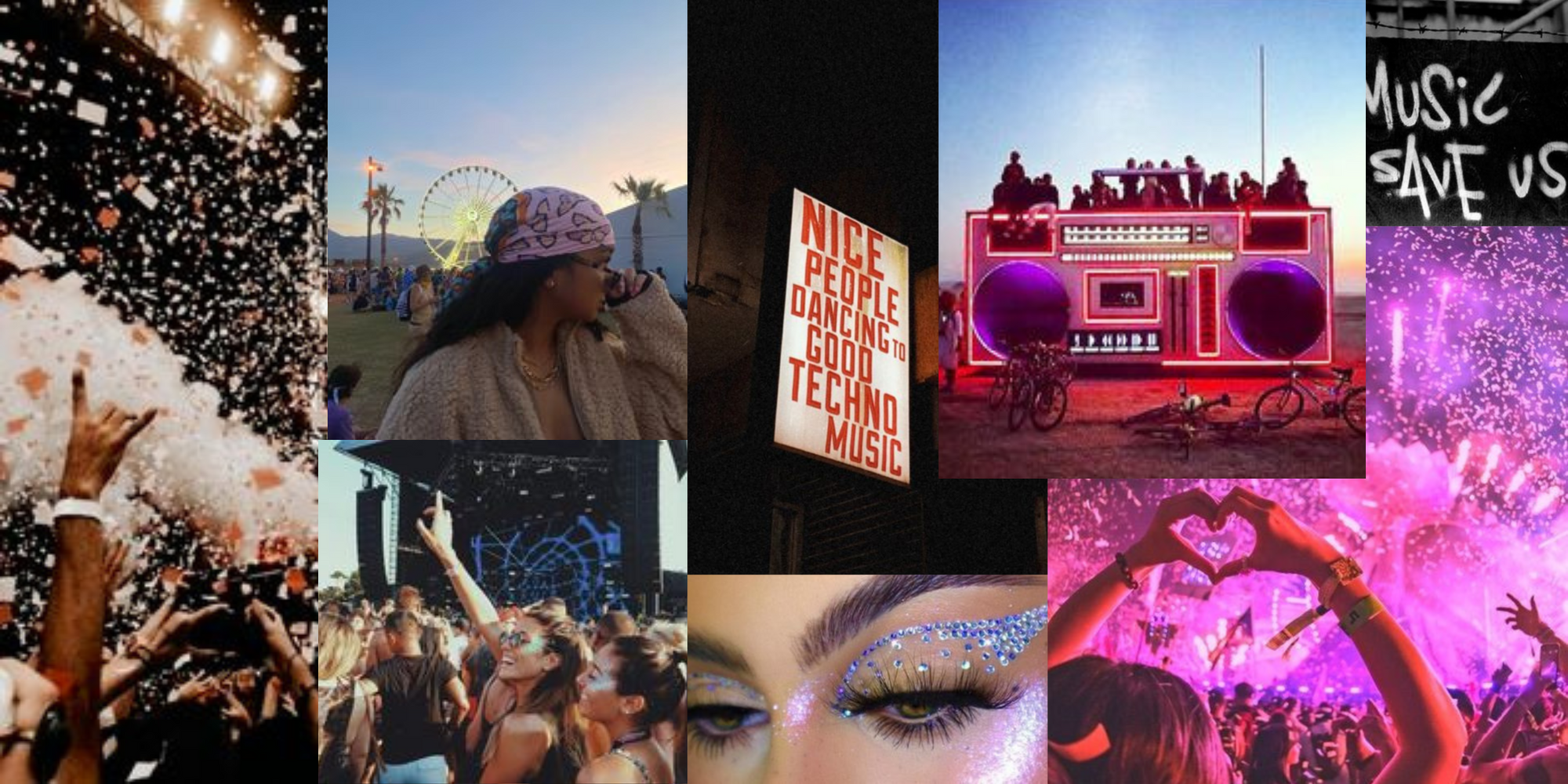 Music is a shared experience, which is part of what makes music festivals such unforgettable events that people flock to year after year. It's almost a rite of passage to say that you've been to a music festival like Bonnaroo, Coachella, or Burning Man. There's just something about a weekend full of music with your best pals that can put you in the best of moods.
Music festivals have started to make the transition from simply being places where you can see multiple bands perform to being experiences for all of our senses. Not only is there amazing music, but you can also find stalls full of delicious foods and drinks, places to sit in the warm sun, and so much more. You can find art installations, pop-up shops, and even exercise classes to enjoy with the people you love most (and maybe make some new friends, too).
One of the best parts about going to a music festival is seeing all the fashion. Everyone has their own spin on what they think music festival fashion is, and it's fun to see how people showcase that style. When it comes to planning your own outfits for your next music festival, let Cider help with our Music Festival Edit.
Music Festival Clothing Tips
One of the first things you'll want to do is figure out the aesthetic of the music festival you're attending by searching its hashtag on social media. If it's a rave like EDC, you might want to wear a more risque look than you'd pull out for Outside Lands, for example.
Researching ahead of time will give you ideas of what the festival's general vibe will be. Of course, there will be changes from year to year, but you'll get a good feeling for the aesthetic and know how to plan accordingly.
You should also check and dress for the weather. Plan for some layering so that you can remove a cardigan or hoodie if you get hot, and you can add a comfy sweater if you get chilly after the sun goes down.
In the heat of the summer, a tank top or even your favorite swimwear will suffice. It's not always fun to get stuck in a long sleeve top or a pair of wool joggers when the low that day is 75 degrees.
Music festivals are also not a place we'd recommend breaking in a new pair of shoes. Wear comfortable and sturdy shoes with your festival dress, as you are going to be walking and standing a lot. It might be tempting to go for the cute shoes that you bought to finish your look, but trust us — your feet will not be thanking you later.
Let's get into ideas and inspiration that will help you look both stylish and comfortable at your next music festival.
Fringe
Fringe is a fun choice at any music festival, especially ones with forest or desert vibes. Not only does it give an edgy and boho vibe to your outfit, but it also just looks cool as you dance around. You can pair fringe pieces with fishnet tights and bold accessories for an even edgier look.
When it comes to the type of fringe you choose, the sky's the limit. You can have faux leather fringe, fringe made from denim shorts, and even rhinestone fringe, which totally gives you that space cowgirl look.
90s & Y2K
The 90s and Y2K are back, and these trends are reflected in music festival fashion in a big way. Bucket hats can protect you from the sun, and they also look way cute when styled with braided pigtails. Meanwhile, halter and crop tops are stylish and make a vintage statement when paired with the right bottom.
Some Y2K staples for bottoms include cargo pants and wide-leg flare pants. You can easily pair these essentials with a cami top or a revealing tank top with a cutout to capture looks like Britney Spears circa 2002.
We also love the shimmery look that was made popular during the early 2000s, and any shimmery piece you choose will look even more incredible at night during the light show at your favorite band's set. Whether it's a glittering mini skirt or bodycon playsuit, one thing's for sure — you'll look stunning.
Retro and Hippie Style
Are you really at a music festival if you don't pay some type of homage to the most well-known festival, Woodstock? Whether it's by wearing tie-dye t-shirts,  paisley blazers, denim jumpsuits, or flowy dresses, you'll look the part of a classic festival-goer. Don't be afraid to combine different looks from various decades to put your own modern spin on the look!
Layering Festival Wear
As we mentioned before, layers will be your friend during your music festival — and they can be a super fun fashion statement in the process. Start with a base, like a bodysuit or a bralette. Then, you can add a crochet romper or light kimono on top to help give you some warmth when the sun goes down. Also, make sure you pack a rain jacket in case it rains.
Matching Sets
Matching two-piece sets in retro prints scream music festival, and you'll look the part when you have a fun set on. Choose bright-colored blouses and corset tops with matching pants so your friends can find you in case you get separated, and don't be afraid to mix and match different sets for a fun look.
Going for the monochromatic look with one-color loungewear pieces like hoodies and sweatpants can be fun and comfy, too.
Beyond the Blue
While cut-off jean shorts are a basic need at music festivals, feel free to venture beyond your typical blue denim. Colored denim is perfect for music festivals, and you can create fun monochromatic looks in any color that you wish. Look for denim with fun details, like rhinestone fringe, sequins, or patches, for a truly unique fit.
Festival Accessories
When planning your music festival outfit, make sure you spend some time planning for your accessories to complete the look.
Statement jewelry, like bold earrings and necklaces, can elevate your look. Fun hats are a perfect addition and also keep the sun out of your eyes. Speaking of the sun, don't forget sunglasses in funky shapes and colors!
Pick a Mood, Pick a Song with Cider
Cider is the perfect spot to get all the essentials for music festival season. It seems like festivals like Coachella and Lollapalooza have become their own sort of runway, and we live to see the fun styles that festival-goers come up with.
Cider gives you access to new arrivals weekly, so you can make sure that your music festival outfit is always up to date. Buy those festival tickets, turn on your favorite song, and hop on over to Cider to pick up some best sellers and get your outfit planning underway.
Sources:
Blurring the Lines: How Music Festivals Are Becoming More Than Music | Pitchfork
Festival Fashion: An Analysis | STITCH
Y2k: the late 90s and early 00s fashions making a comeback | The Guardian