Shop The Trend: Women's Corset Dresses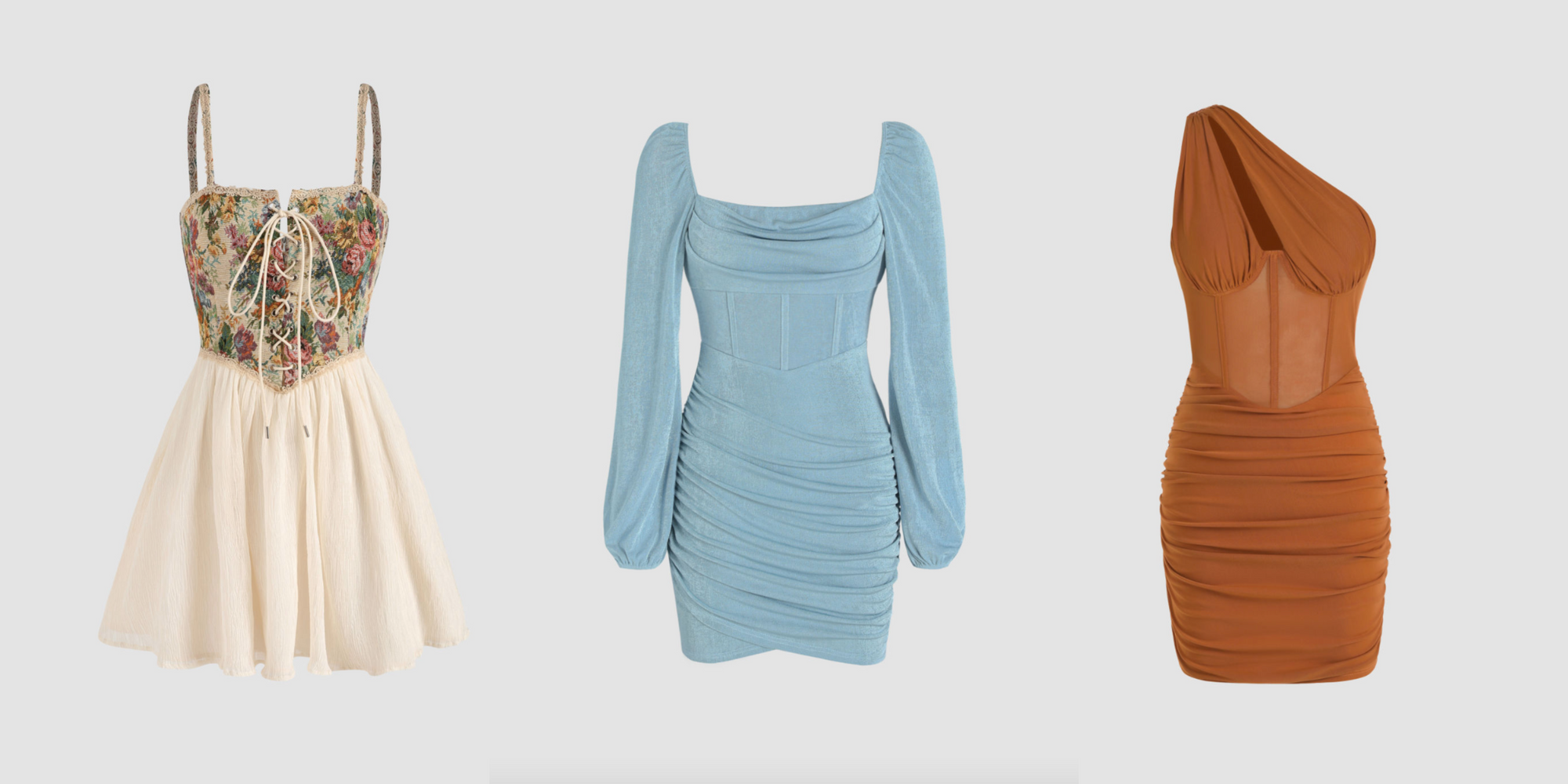 Are you completely obsessed with Bridgerton? We don't blame you one bit, as we, too, love the drool-worthy fashions, amazing music, and steamy storylines of our new favorite Regency-era TV show.
With the rise of Regency era looks in fashion magazines and runway shoes, it seems like others have also fallen in love with the show and its fashions. In case you haven't noticed, fashion is very cyclical, and it's so exciting to see what items will make their way back again.
What Is Regency Era Fashion?
In Bridgerton, we saw all the eye-catching styles, including empire-waisted gowns, hair accessories, puffy sleeves, square necklines, opera gloves, and corsets. We can see these looks being repeated, sometimes with just one aspect or multiple at the same time.
These styles were popular in the 1810s to 1820s in Great Britain where a new silhouette was taking the place of the more structured corsets. The looser and more flowy gowns were more comfortable, and women enjoyed the freedom that came from not wearing a full corset. While women still wore corsets for support, they were much less demanding of their older counterparts.
Empire Waists and Puffy Sleeves
The empire-waisted gowns were a nod to the Greek and Roman mythologies that the Regency era loved so much. Another popular style was puffy sleeves, which came in a variety of sizes. Some were so large that women had to go through a door sideways, while others were delicate little puffs that just grazed the shoulders.
The Regency look features a lower neckline, a higher waist, and a feminine, dainty vibe. While the dresses did not bring the eye to the natural waist, they did bring the eye upward. The Regency-era dressing was all about the décolletage (aka the top of a dress that flaunts the cleavage).
Fancy Fabrics
While the silhouette sounds simple enough, the fabrics and accessories were not. Elaborate fabrics like brocade and satin took the simple and made it ornate and grand. Big jewels were still worn, and hair accessories were also all the rage.
Regency Core
Today's spin on Regency-inspired fashions, dubbed Regency Core, gives a more contemporary edge to the styles of more than two centuries ago but still maintains that flowy and high-fashion look. The difference in today's interpretation is the fabrics being used and the colors. Now we have bright colors and patterns that give a more modern feeling.
While we may not be wearing full gowns, we love sporting the same square neckline and puffy sleeves on a blouse. So break out your Jane Austen novels and hit replay on your Bridgerton soundtrack for some major fashion inspiration.
Here's the dish on everything you need from Cider's Regency Core collection:
High-Waisted Gowns
This style has multiple names, like baby doll dresses and empire-waisted. This silhouette sees the waist of the dress right under the bustline and it works on all body types, so anyone can rock it.
High-waisted gowns and dresses are flattering because they make you look long, which is perfect for any petite peeps who want to appear a few inches taller. It's very easy to put your own touch on these types of dresses by adding funky shoes and accessories or going full girly-glam with delicate sandals and jewelry.
Hair Accessories & Opera Gloves
Accessories to an outfit are like sprinkles on the top of a cupcake. Absolutely extra, but absolutely necessary. If you aren't ready to jump into full Regency core just yet, dip your toes in the water by adding Bridgerton-inspired accessories to your outfits.
Hair pins and headbands are a great touch when you need a little something extra to your outfit. As an added bonus, they distract from the fact that your hair may be entirely dry shampoo at this point.
Hear us out: opera gloves. Yes, they are the most extra and dramatic thing, but they are also adorable and super chic. Plus, with cooler temperatures coming, you'll need something to protect your hands from the cold. If we're gonna wear them, they might as well be stylish and functional!
Puffy Sleeves & Square Necklines
Another Regency trend we love to see is the details that can make a dress or top stand out. Puffy sleeves and square necklines are a total throwback to the Regency era, but now you can spot these details on tops instead of solely on dresses.
Puffy sleeves bring a playful look to any outfit, especially for workwear. You'll be the coworker who gets things done but still has fun while doing it. Luckily there are plenty of sized puffs for you to choose from if you don't want to commit to a big puff right from the get-go.
With or without puffed sleeves, square necklines are a refreshing look to your blouse collection. They'll have your collarbones on point, and this neckline lends itself to giving you a necklace moment. Whether you decide to wear a choker or layer multiple dainty pieces, everyone will be sure to notice your jewelry with this complimentary neckline. Can you say statement piece?
Corsets
Corsets were made to go underneath the clothing in order to enhance and mold the body's shape. However, today's corsets are made to be seen, and there are multiple ways of styling them. With plenty of modern flair, like fun patterns and fabrics, corsets can be incorporated into many outfits and styles.
One of the more popular ways to wear a corset is over a long sleeve button-up because it gives a pop of color and shape to an otherwise loose shirt. With the corset being snug to the body, looser-fit jeans will give a relaxed and magazine-worthy look. Make it grungy with combat boots and a flannel thrown over, or chic with a pair of structured but loose trousers and a blazer.
If you've avoided wearing a corset because you didn't want to look like you were going straight to a tea party, we have some advice:
The key to making a corset a stylish part of your ensemble is to keep the rest of your outfit relaxed but with a bit more structure. A snug corset and tight bottoms may be a little too much, but a peek-a-boo of lace under a blazer or thrown over a long-sleeve button-up gives you a soft edge.
If you don't want to wear a corset on its own, there are plenty of shirts that incorporate different aspects of corsets, like boning, lacing, and its structured appearance. Dresses have really taken to the corset trend, and you can see plenty of styles that evoke major Regency-era vibes.
Corset Dresses
Cider has all the corset dresses you'll ever need for every occasion you can think of. You'll be able to choose from dozens of dresses that contain a corset for either form, fashion, or both. Many of our corset dresses have boning that is visible and adds an eye-catching element to the dress, but also gives shape and structure while the ruching gives a softness. To sum it up, we love a corset dress. You can find dresses with a toile detailing in the middle that is reminiscent of a corset and evokes a total Regency vibe with the print.
If you love the shirt dress, you'll adore our variety of amazing shirt dresses. You'll look ready to be an extra on the set of Bridgeton. Lots of shirt dresses have a corset-esque top, which gives you the structure and support we love (talk about a win-win).
With multiple Regency-inspired details, our puff sleeve dresses will leave you wanting to find your own London society party to attend. Seriously, you'll feel like you've gone back in time. So chic!
Cider: Where You Can Find All the Season's Must-Haves
One thing we have in common with the Regency Era: there is always a season to look forward to. While our season is mainly focused on fashion trends, those who lived in the Regency Era still needed to have their choices made for the latest ball or tea.
If only they had Cider as a place to shop! Consider yourself lucky that you not only get to partake in these iconic fashions, but you also get to enjoy modern advancements like the internet and shopping online.
Cider has all the newest pieces to update your wardrobe, and we update our selections weekly. Check us out so you can live all your Regency Core dreams in style.
Sources:
The Cyclical Nature of Fashion | The Avenue Magazine
Regencycore Is the Fancy, Regal Fashion Trend We've Been Waiting For | InStyle
A Guide to All the Pop Song Covers in Bridgerton Season 2 | Town and Country Magazines
What 'Bridgerton' Gets Wrong – and Right – About Regency England | HowStuffWorks