Birthday Dress & Outfits | Shop Birthday Outfits for Women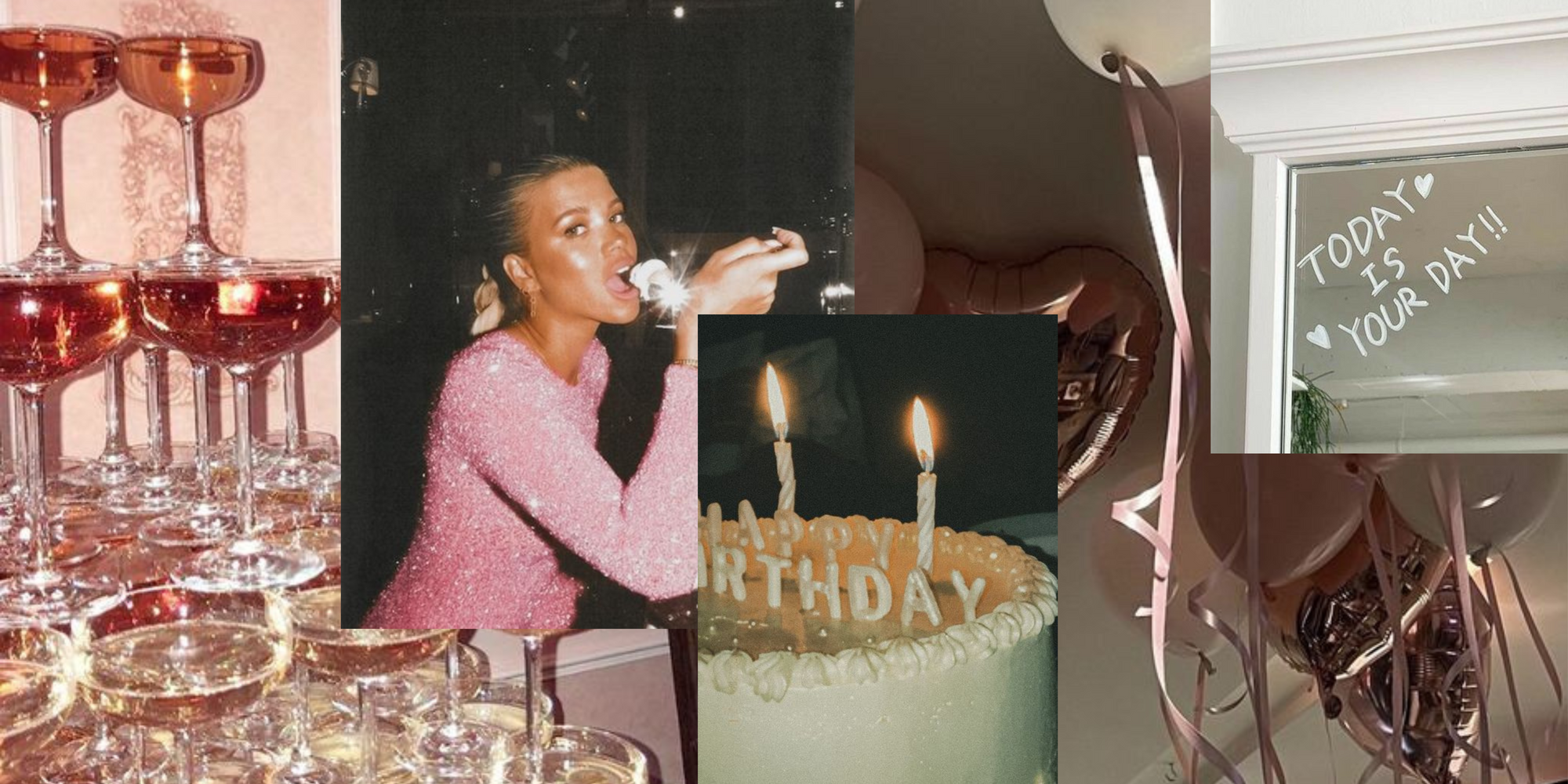 What is there not to love about birthdays?! You get to celebrate another year of gaining new experiences, friends, and another trip around the sun. Your birthday is your own personal holiday, and you can celebrate it any way you like.
Birthdays are all about growth, both physically and mentally. You mark special occasions by the passing of your birthdays, like when you were able to start wearing makeup or dating. Birthdays are occasions for families to get together and bond, which makes them extra special.
And let's be real, who doesn't love seeing the throwback posts your friends tag you in as they share the birthday love?! Planning a birthday bash is also something to look forward to, and within those plans, you have to find the perfect birthday fit!
Cider is your destination for all your birthday looks, no matter how or where you are celebrating. Join us as we share the looks worth celebrating.
Milestone Birthdays
Are you celebrating a milestone birthday? While every birthday is worth celebrating, there are some birthdays that mark important parts of our lives. When these milestones come up, you may choose to enjoy your day a little more lavishly. That means treating yourself to a special birthday outfit to commemorate your big day.
18th Birthday
Your 16th birthday is a big milestone as you get your first taste of freedom with a shiny new driver's license. However, your 18th birthday is when you take your first step into adult life.
Although you're technically a teenager, the big 1-8 is when you become a legal adult. This milestone is the start of your journey into adulthood, and you may be feeling the pressure as college or career choices start becoming more important.
While these can be heavy thoughts, it's important to slow down and cherish this milestone birthday! It's completely your decision whether you want to toast to the end of your childhood by wearing something youthful and flirty or showing your adult side with a more sophisticated look.
If you have a family lunch or dinner planned, try an adorable puff sleeve dress. If you're partying with friends afterward, you can change into a lush and velvet number but with a more grown-up vibe. Make it a night to remember with an elegant dress.
21st Birthday
Your 21st birthday comes wrapped up with new adult privileges. Toast to these indulgences by hitting up the hottest nightclubs and showing off your sexy side. You'll absolutely shine in a sparkly mini dress as you dance the night away with your best pals.
If you want to take a destination trip for your birthday, we think spending your 21st in the city that never sleeps is a fantastic way to make another milestone birthday memorable and fun. A shimmery option would be the perfect choice for your night out and about in the Big Apple.
If a big bash for your 21st birthday isn't ideal, an intimate dinner still gives you a chance to celebrate and imbibe in your newfound freedom. A jumpsuit is sophisticated enough for a nice dinner but still gives those "birthday guest of honor" vibes. Cheers!
25th Birthday
Hello, Ms. Quarter of a Century! In your early 20s, you and your friends were on a shared path. However, as you reach our quarter-of-a-century mark, you may notice those roads have taken off at different rates and in different directions.
Your career has taken off, but maybe your friends are scattered across the country. You may find yourself looking for a career change, or maybe you just moved to a brand new city. Life is all about changes, and you've found that you have gone through them as your 25th birthday comes around.
As you reach your 25th birthday, some people want to bring up the quarter-life crisis. We say no to this! Every birthday is worth getting excited over — plus, every year is a new chance to add to your wardrobe (right?!).
This milestone birthday is a perfect chance to honor how far you have come as an adult and allows you the opportunity to refocus if needed. It's never too late to readjust and change plans. While we want you to look chic and stylish, we also want you to feel great too!
Birthdays are a great reason to bring everyone together again and acknowledge all of your accomplishments. Plan the flights and the hotel, and have a blast celebrating. Enjoy another milestone birthday by feeling super stylish with a matching set. Whether the vibe is loose and laid back, or you're looking for something tight and sexy, Cider has a set for you.
We have a variety of delicate, flowy, and floral sets that will make you feel flawless and ready to take all the birthday selfies. We even have totally hot sets if that's more of the birthday vibe you're going for.
25 is the year of you do you; you're your own person, and no one can tell you what to do!
Different Birthday Vibes
Milestone birthdays are incredible, but what about the birthdays in between? While milestone birthdays are a blast to celebrate with a glam night on the town, you may not want to host every birthday in a nightclub.
When you want to celebrate your birthday in other ways, Cider still has you covered in the outfit department for whatever type of celebration you choose.
Game Night
Yummy appetizers, BFFs, and exciting games wrapped together make for an iconic birthday celebration. Games like Cards Against Humanity, Ticket to Ride, Jenga, and What Do You Meme? will keep your party playing and laughing all night.
While you're having a more chill birthday party, this doesn't mean you can't dress up and look the part of the party VIP. A matching sweater set is cute and comfortable while allowing you to be matchy-matchy for your special day. Even if you don't win any games, you'll still look and feel like a winner in this set.
Retro-Themed
We love a themed party. Give us an excuse to dress up in another decade's fashions and take throwback pictures any day. The flower power vibes will be strong in a floral print mini dress, and you'll have the grooviest of birthdays wearing it. It's all about the boho vibes. The only thing left to do is practice all your peace-sign throwing poses and come up with acaption for your perfect Instagram post.
Movie Night
Picture it: A projection screen in your backyard, outdoor lights crisscrossing overhead, and a warm, faint glow. The smell of popcorn in the air. Comfy seats and blankets to share. Turn your birthday into a movie night with a festive atmosphere.
If you're watching a new feature or an old favorite, it's bound to get a little bit cooler when the sun goes down and the movie starts, so keep cozy with this fuzzy oversized jacket. Time to get comfy and enjoy all the butter lovers popcorn you can!
Birthdays With Cider
In the past couple of years, you may have seen a decline in the number of birthday celebrations you penciled into your calendar. Your birthday celebration was likely scaled back, or postponed while we all practiced social distancing.
Now that the world is opening its doors again, you want to make your next birthday extra special and have the opportunity to actually celebrate with your friends. You may be itching to get out and have a night on the town, making up for the time lost in 2020.
On the flip side, you may have discovered the comforts of staying home and want to keep that same vibe for your birthday. This is also an added bonus if crowded spaces aren't your cup of tea.
No matter what type of celebration you decide to have, either all-out or low-key, Cider has all the birthday dresses and outfits that will have you feeling yourself on your special day. With so many different collections and pieces to choose from, we have everything you need to create the perfect birthday fit for any fibe!
Sources:
Understanding The Quarter-life Crisis | Bradley University Online
Why Celebrating Children's Birthdays Is So Important | Brightside
'COVID-19 pandemic has robbed Americans of 9 million birthdays,' researcher says | The Hill
Plan a Memorable Milestone Birthday Celebration | The Spruce