Y2K Fashion: Why It's Back and Better Than Ever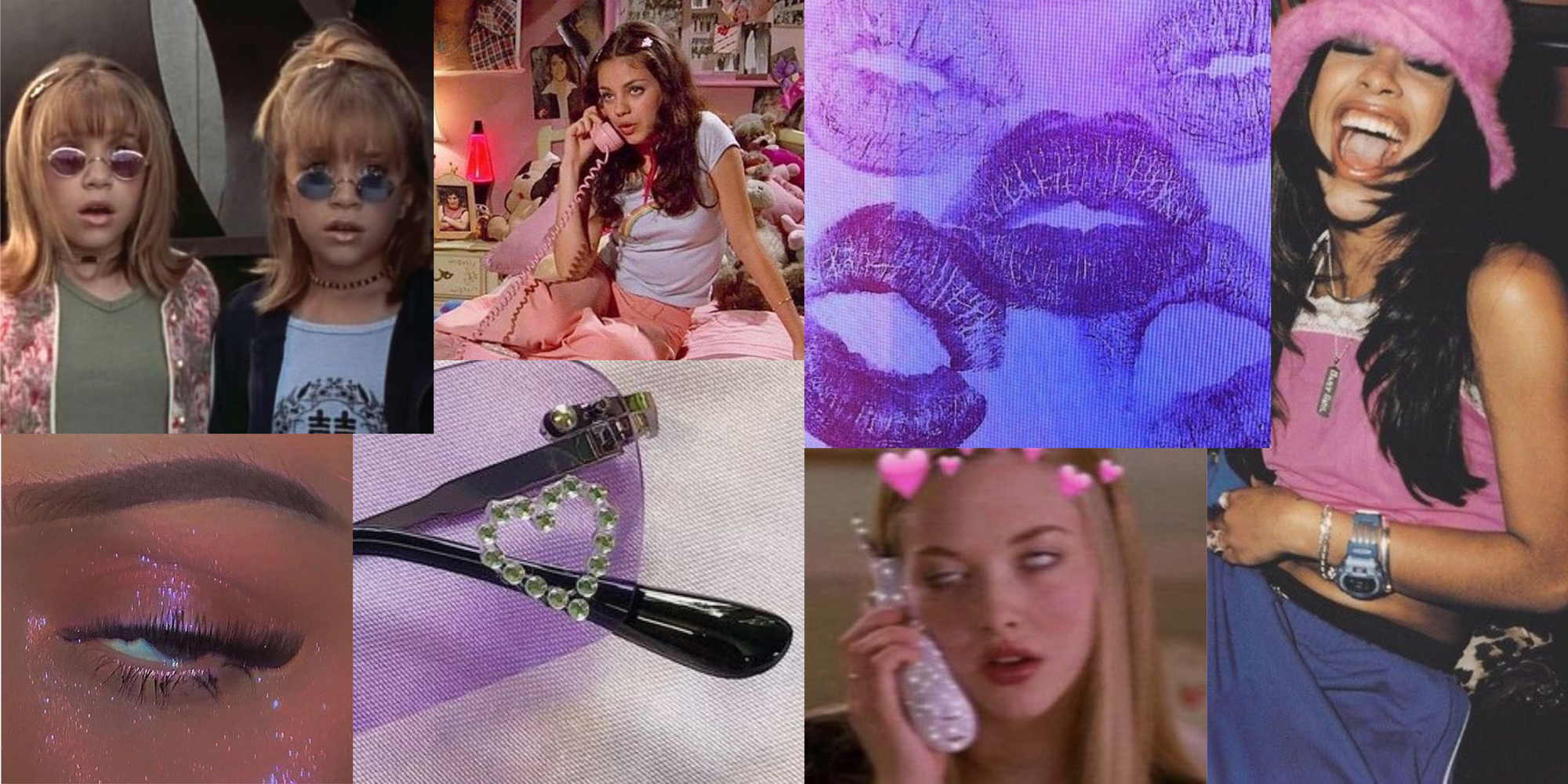 Depending on when you were born, you may immediately think of Friends, Carrie Bradshaw, Sex and The City, or Mean Girls when you hear the Y2K aesthetic being mentioned. The internet was experiencing the dot-com boom during the late 90's and Y2K style era, and its influence could be felt in all waves of life, especially culture and fashion.
During this era, the internet was in its early days of connecting people all over the world. People could immediately see fashion inspo from the red carpet on their computer screens and easily copy those looks.
In fact, JLo's famous green dress was the inspiration for the creation of Google Images. She can take credit for the first look to officially break the internet. Fashion trends were experiencing their first viral moments, and the early 2000's were dominated by futuristic and playful looks.
New fashion trends were making the rounds much faster with the internet. Red carpet and runway looks were being posted within hours, if not minutes, and all it took was a click of a button to see what the next fad would be. This ignited the popularity of several looks at once, and you could find blinged-out Y2K looks next to surfer streetwear in the same store.
Trends always circle back around, and that is no exception for the looks of the early 2000's. You can see the futuristic looks from this time making their way back onto the clothing racks in stores.
While the 2000's saw chunky shoes and Von Dutch hats, this resurgence of Y2K fashion is seeing a modern update — and we are living for this twist on our retro 2000s fashion favorites.
Why Is Y2K Fashion Back?
We always crave for a time when things were more simple, and one way we can create the feel for a different time is with the clothing we wear. Nostalgia is a powerful force, and you can look at past magazines and runway looks for evidence on how the want for a simpler time brings back fashion trends.
Even looking at pictures of people you know from that era can evoke emotions of nostalgia, especially when you hear stories and memories from that time.
For instance, watching old videos of Destiny's Child may make you want to try layering. Re-watching the High School Musical movies may make you envous of Paris Hilton's famous velour tracksuits.
The resurgence of Britney Spears in the media may have you craving butterfly hair clips, baby tees, and baggy, wide-leg jeans that made up most Y2K outfits. And don't even get us started on Christina Aguilera in her low-rise jeans and cutout crop tops.
Since digital cameras came out in the early 2000's, you can rewatch nostalgic home movies and see the fashion of the time in all its glory.
The Early 2000's
Being able to escape to another time can help reduce everyday stresses, and the early 2000's are easily viewed with old footage from MTV and movies that ruled the box office at that time. You can see just how things have changed, and depending on the year you were born, you may even remember some of it. What we wear can have an influence on how we feel, and bringing back fashions from previous decades can really amp up those feelings of nostalgia for a time when things felt a little less complicated.  
While looking at pictures is one way to feel inspired, another is by seeing how music and celebrities bring fashion trends back in style.
One easy way to view how previous trends are brought back is by watching Iggy Azalea's music video for "Fancy." The video is inspired by 90's hit movie "Clueless," and one of the video's many iconic moments is Iggy's rewearing of Cher's yellow plaid coordinating set.
While Clueless was released before most of Gen Z was born, fashion in the 90's walked so that fashion in the early 2000's could run. It is fun to copy those looks in the form of updated coordinating sets; other looks are also seeing their popularity increasing, like tiny sunglasses, baguette bags, and slip dresses.
How Do You Wear Y2K Fashion Today?
It seems that when fashion trends make another debut, they start to combine with current trends. This current version of Y2K beauty and fashion sees an edit by using key trends with a new spin.
One large way you can see this is with makeup. While we are loving the shimmery eyeshadows and nail colors that were popular in the late 90's and early 00's, we are pairing that with flattering contouring techniques. While we will rock a blue shimmery eye, we're keeping our fuller eyebrows.
Claw clips are also back with a vengeance, and you can see hundreds of TikTok's showing how to create funky hairstyles. While the chunky highlights have yet to make a return, pulling out baby face-framing strands is a style that is currently all over social media.
If you were surprised to hear that these trends are rooted in Y2K fashion, just wait. The increasingly popular Gucci items, trucker hats, tiny shoulder bags, mesh chokers, and midriff-baring mini hoodies are also current trends that debuted in the early 2000's.
Y2K Clothing
First, a history lesson. It's easy to mix together the late 90's through the first decade of the 2000's as the Y2K era. However, there is a little bit of distinction between what was in style in the late 90's and early 2000's compared to the late 2000's.
As the year 2000 approached, everything was about the future and what people thought it may look like. Everything was shiny and shimmery, as to say "new millennium, new world." There were a lot of pastels, which are calming and uplifting.
This contrasts with the somber attitude of the time, where everyone anxiously thought the digital age would implode as the year changed from 1999 to 2000. In fact, the term "Y2K" was originally used to describe this impending, supposedly apocalyptic disaster. Once the celebrations during this new timely milestone had died down, a new aesthetic started to emerge. The soft shimmers were gone and replaced with full-on bling.
The love was strong for rhinestones, and covering everything from phones to license plate frames was extremely popular. Fun colors, feminine silhouettes, and logos were all the rage. For extra research, press play on "Legally Blonde" to see perfect examples of this aesthetic.  
The surfer vibe also started to become trendy. Hibiscus print, bucket hats, bandanas, and puka shells were just as popular and could be found in malls where the ocean was hours away.
Y2K + Today
Bringing Y2K influences into your OOTD is easy. First, check out Cider for all the Y2K pieces that you can incorporate into your outfit. Anything you could possibly need to help add a touch of nostalgia is listed on our pages.
Shiny fabrics bring a tech-y vibe, and can also bring some vibrancy to whatever you are wearing. This will be super cute when the fall and winter months have everyone freezing cold.
Speaking of cold, feminine cardigans with ties are a sweet touch and keep you feeling cozy and serving looks; these look especially cute when layered over logo t-shirts. For a true reference Y2K pop culture, scout out your local thrift retailers for a Juicy Couture shirt and chunky sneakers to complete the fit.
If one of your secret dreams is to look like a Bratz doll, pleated skirts are a surefire way to bring back those memories of your favorite childhood toy. Balance out the look of a pleated skirt with a chunky sweater and some more structured shoes, like loafers. While mini skirts were in during the 2000's, today's pleated skirts come in a variety of lengths so you can wear whatever you are most comfortable with.
Denim on denim is fantastic when styled correctly. If you doubt us, just look up the absolute denim dream duo that was Britney Spears and Justin Timberlake's look at the 2001 American Music Awards.
When creating your own denim dream look, there are a few key things to remember. Keep the denim wash as consistent as possible, and add a pop of color to break things up. You can do this easily with bright shoes or a bright handbag.
If you are a little hesitant about wearing full Y2K trends, try easing into the vibe by adding accessories to your look. Butterfly clips, rhinestone jewelry, tiny sunglasses, and little purses are the perfect way to put a touch of the millennium on your ensemble.
You don't have to pile everything on all at once, but adding a sprinkle of Y2K here and there will give you a chance to experiment and see what you like and don't like.
Y2K With Cider
Cider has all of the nostalgic looks you need to put your own spin on Y2K fashion. While you may be taking selfies on your smartphone as opposed to a digital camera, you can still have the same vibe with all the shimmer and bling you could want.
Y2K has such a vibe — not only with the clothes but with music too. So pop on some Avril, Beyonce, Spice Girls, or Christina and shop Cider's bestsellers to get all the best looks for your next batch of selfies.
Sources:
How Jennifer Lopez's infamous 2000 Grammys dress broke the internet | Business Insider
What We Wear Represent Our Personalities and Feelings | Entrepreneur