Cider IRL: Our Mini World Tour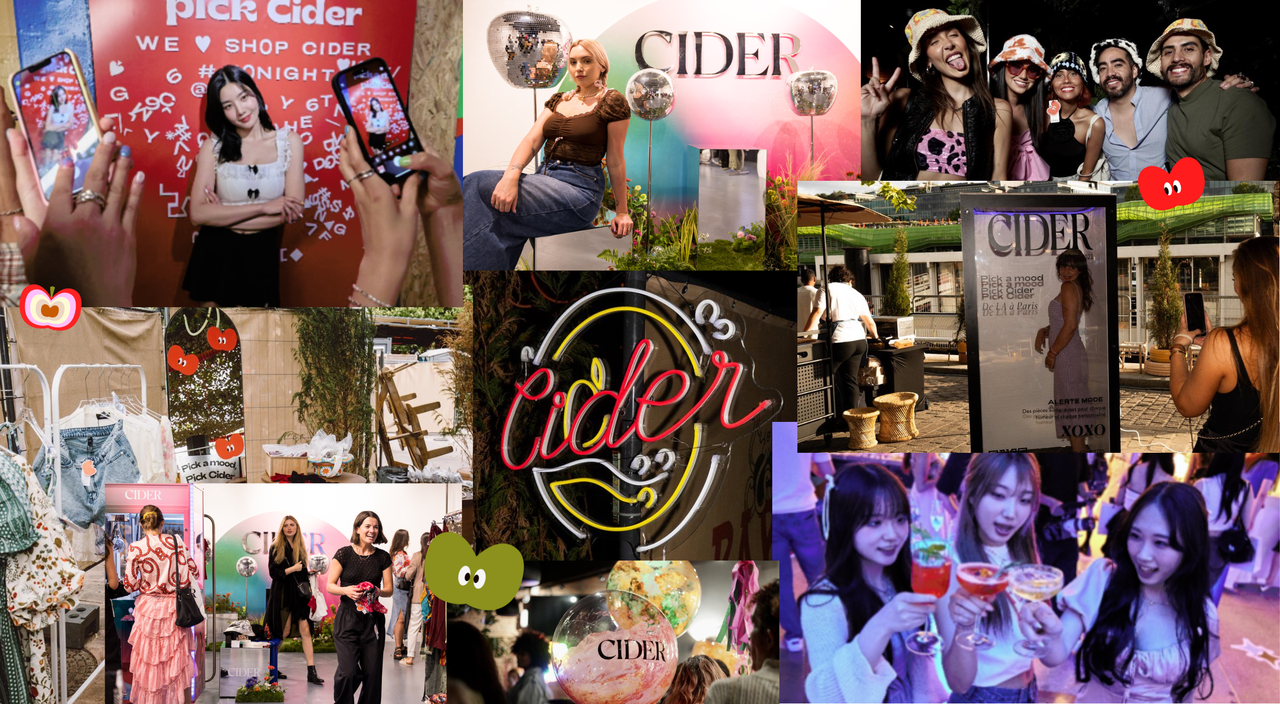 As summer comes to an end, we're excited to share some of our favorite moments from the IRL events we had this summer! From launching our first-ever global pop-up store to hosting showrooms and happy hours for our amazing community, we've been on a mission to make Cider even better for closets all around the world. Let's dive into the highlights from our summer world tour!
📍Seoul, South Korea

💓Tell Us About It: We launched our first-ever global pop-up store in Seoul for 2 weeks to meet up with our #cidergang offline.
🌟Highlights of the Event:  Over 30 thousand people visited our pop-up store, which became the hottest place in the Seongsu area where Cider bags can be spotted everywhere on the street. At the grand opening of the store, we invited 100+ influencers and celebrities like Kwon-eun bi and Chuu to celebrate this precious moment together.
🥰From the KR Team: "It's definitely a milestone for both the brand and the market to hold such a big offline event. So glad we've all been part of this to make it happen. Can't wait for more to come!"
📍London, UK

💓Tell Us About It:  Even though it was an unpleasant weather day in London, we managed to launch our first showroom IRL in the UK. A rough number of 50+ attendees arrived the invited-only 1st day event, despite the non-stop chunky rain all day. We truly showcased the essence of Cider, and if every attendee had to pick their mood, they would choose "Feeling super mega amazing"!
🌟Highlights of the Event:
We had a DJ (shoutout @djalise_ !)
A photographer
A photo Cider background where all the influencers took some cool pics
Claw machine to win goodies
Tote bags with goodies for each influencer
Nail artists who create cute Cider nail designs
Food and drinks

🥰From the UK Team: "It was chaotic and challenging but everyone had an amazing time. The weather wasn't helpful at all but it didn't stop us to have a blast! Everyone was playing with the grabbing machine, dancing, talking with their friends, taking pics, eating, drinking, taking a look at the Cider pieces. Even random people on the street wanted to get inside because the vibes that the showroom was giving was amazing."
📍Paris, France

💓Tell Us About It: Our first big events in Paris with all our favorite content creators, our closest community members, our French team and Fenco, one of Cider's co-founders! The event took place in a super trendy bar on the Seine, the river going through Paris. There, you could discover Cider's summer collection, drink some French Cider, get a tattoo, some tooth gems or get your nails done. ♥
🌟Highlights of the Event: Fun fact, some people thought the tattoo stand was for temporary tattoo (but it wasn't) so our team had to run to them screaming "Nooooo it's real tattoos!!"
🥰From the French Team: "We are so grateful to be able to meet our closest customers and the people who work with us during the year. After 2 years of Cider in France, having the opportunity to host big events like this one is truly amazing for us."
📍Mexico City, Mexico

💓Tell Us About It: We celebrate the arrival of summer with an exclusive happy hour in one of the most iconic areas of Mexico City, in the company of our entire Latin #cidergang.
🌟Highlights of the Event: All of our guests had fun listening to Y2K-style music and enjoying the best drinks in the city. Additionally, they had a mystical experience; our tarot reader provided them with a reading where they could explore the future. It was an unforgettable evening filled with laughter and great company.
🥰From the MX Team: "We can't wait to have another incredible moment with our #cidergang in Mexico. We love their vibe! And they also have an amazing style."
As always, we're so grateful for our #cidergang community and Cider team across the globe! Stay tuned for more CiderIRL events in your area. Til next time!
XOXO,
Cider 💋